WAARI
ICIS is a key partner of a collaborative group, the Consortium, working together to develop in Mali an innovative centre for agro-forestry, an agri-business incubator project, called WAARI. The Consortium comprises:
Founder and Co-ordinator, Malian agro-industrial conglomerate Agro-Industrie Dévelopement AID-SA, (Agro Industry Development Society Ltd), Mali, chaired by Dr. Ibrahim Togola
Institut d'Economie Rural, IER (The Institute of Rural Economy), Mali
Institut Polytechnique Rural, IPR/IFRA (The Rural Polytechnic Institute for Training and Applied Research), Mali
Union des Coopératives de Bougouni-Yanfolila (Union of Farming Cooperatives in Bougouni and Yanfolila Regions), Mali
ICIS, International Centre for Creativity, Innovation and Sustainability, Denmark,  represented by Director Karen Blincoe
Copenhagen University, Department of Geography and Geology, Denmark (in a consulting capacity) represented by Professor Neils Fold
The overall goal of the Consortium is to promote regional integrated development in a poor region in the South Western part of Mali, namely the forest area of Bougouni and Yanfolila. Poverty is widespread in the area yet agricultural and agri-business potential is evident.
The goal is to support existing and aspiring small-scale agribusiness entrepreneurs
WAARI will provide training, and act in an advisory capacity, on economically effective, technologically advanced, locally appropriate and sustainable agricultural processes to support existing and future small-scale agribusiness entrepreneurs.
The objectives of WAARI are:
Support existing and future small-scale agribusiness entrepreneurs.
Develop agricultural business innovations.
Contribute to the start up of new agricultural and forestry businesses.
Establish networks between universities, research institutions, the private sector and young entrepreneurs, particularly young women.
Centre activities will feed into the educational and training programmes of the Rural Polytechnical Institute (IPR/IFRA) of Mali. Up-scaling of the centre's activities to other regions in Mali (and possibly other African countries) will be made possible through an extensive dissemination and networking programme.
ICIS's contribution will mainly focus on encouraging local sustainable development, developing courses in leadership as well as introducing design innovation and creativity to local businesses.
Overview of Agriculture and Development in Mali
Mali remains one of the world's poorest countries, ranking 178th out of 182 countries in the United Nations Development Programme's 2009 Human Development Index. 51% of Malians still live below the current international poverty line of $1.25/day and 77% live on less than $2/day (UNDP 2009). Although national poverty reduction strategies have reduced the proportion of the country's poor from 64% in 2001 to 47% in 2006, 68% of the population live in rural areas and in rural areas the incidence of poverty has remained virtually unchanged, dropping only 0.8% from 73.8% in 2001 to 73.0% in 2005 (IMF 2008).
51% of Malians still live below the current international poverty line
Agriculture is a key economic sector of Mali accounting for around 37% of Mali's GDP (based on 2007 data). Some 80% of the labour force is engaged in farming and fishing, and in rural areas up to 90% of the population is directly engaged in some form of agricultural activity (IER 2008). However, malnutrition has increased as staple foods have steadily become more expensive; between 2006 and 2008 the cost of rice increased by nearly 40 percent in Sikasso, while the fuel and food crisis of 2007-08 aggravated food and nutritional security (World Bank 2010). It is estimated that 25 percent of rural households experience chronic food insecurity, while 32 percent are vulnerable to becoming food-insecure (IFAD 2010).
65% of Mali's land area is desert or semi-desert. Only 3.9% of Mali's land area (FAO 2005) can be classified as arable land of which 1.4 million hectares is currently cultivated (US Department of State 2010). The countries most productive agricultural land lies south in the area between Bamako and Mopti extending to the borders of Guinea, Cote d'Ivoire, and Burkina Faso. The southern most Sikasso region is the country's key agricultural area for the production of cotton, rice, millet, corn, vegetables, tobacco, and tree crops.
The Malian agricultural sector is dominated by traditional small-scale subsistence farming. 86% of farmers work on less than 10 hectares. 72% of the cultivated area is devoted to cereals, mainly produced for home-consumption. Farmers sell only 15 to 20 percent of their produce (World Bank 2010). Most farms are under-equipped to adopt modern practices; farmers in Mali as in many Sub-Saharan countries rely mainly on human power. Post harvest losses remain high and processing technologies of agricultural produce are largely underdeveloped.
Malian agriculture remains highly vulnerable to natural hazards, such as droughts, floods, irregular rains and locust invasions. Overall food production has increased over the last two decades at a rate consistent with population growth. However these increases have been primarily driven by increases in the area under cultivation rather than improved yield. Compounding the challenges that already face farmers in Mali is future climate change. Impacts include a shorter growing season potentially making it infeasible to produce a reasonable crop using traditional methods. Also, over the last 30 years rainfall has declined by around 30 percent meaning that yields from rain-fed agriculture could drop by as much as 50% by 2020 (IPCC 2007).
WAARI educational centre under development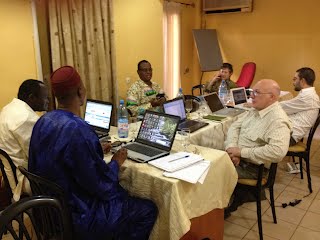 Consortium partners meeting in Mali to discuss the Action Plan, Feb. 2012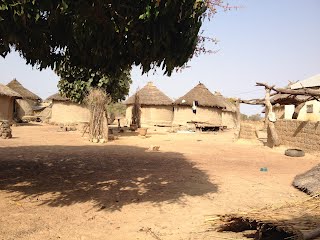 A local village in the South Western part of Mali within Bougouni and Yanfolila